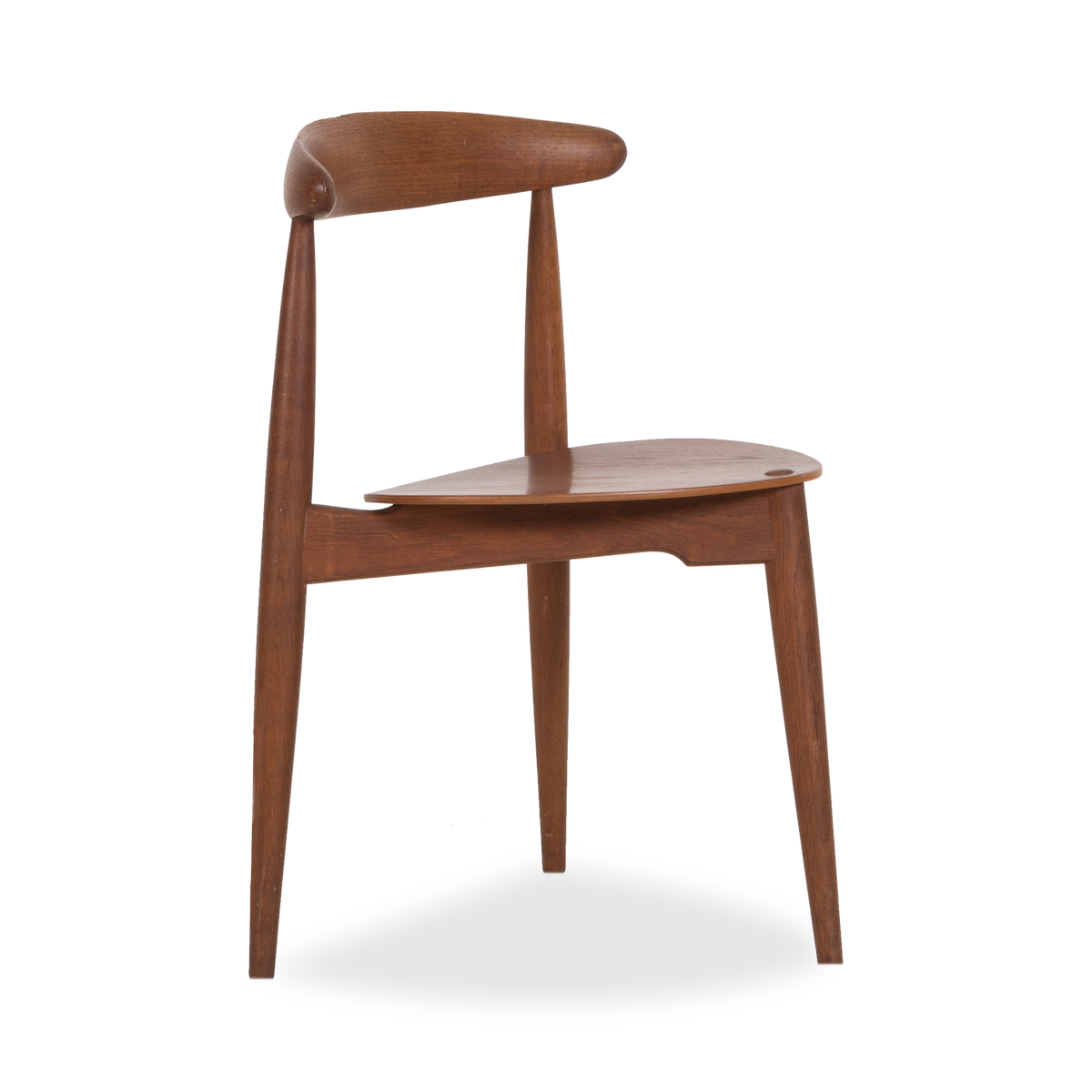 Vintage Hans Wegner Heart Chair
Price For 1 Chair (Sold As A Set Of 6)
Description
An example of early Danish Modernism, this vintage FH-4103 Heart Chair was designed by Hans Wegner and manufactured by Frtiz Hansen, circa 1960s. Both distinctive and chic, this chair features an angular profile with a triangular teak wood seat that is supported by a three-legged oak base. The rounded geometric edges and rich display of the wood grains make this piece a covetable item to cherish.
Style: Danish Modern
Period: circa 1960s
Sold as a set of 6 and cannot be purchased individually. Price displayed is for 1 chair. See in-store for details.
Elte's Vintage Collection brings you a range of stunning furniture and accessories, from mid century modern designs to classic designer pieces, carefully curated from all the world. As with all authentic vintage items, quantities are limited and pieces may show imperfections of age.
This item is sold as a set of 6 and cannot be sold individually. Price reflects price per unit.
Product Code:
Designer
Hans Wegner (1914-2004) stands as an iconic figure in the world of mid-century modern design. Revered for his unmatched craftsmanship and innovative approach, , Wegner was a visionary Danish furniture designer that left an indelible mark on the design world.

Often referred to as the "Master of the Chair," he is best known for his timeless chair designs, which include the famous Wishbone Chair and the Shell Chair, both celebrated for their functional elegance. Wegner's work seamlessly blends form and function, with a profound respect for natural materials and a commitment to achieving the perfect balance between comfort and aesthetics. His enduring legacy as a pioneer of Danish modernism continues to influence and inspire designers and enthusiasts alike.
Measurements
Width: 21.5"
Depth: 21"
Height: 29.5"
Measurements
Width: "
Depth: "
Height: "
Additional Measurements
Seat Width: "
Seat Depth: "
Seat Height: "
Arm Width: "
Arm Depth: "
Arm Height: "
Availability and Delivery
Designer Spotlight
Hans Wegner
Nicknamed the "King of Chairs", Danish designer Hans Wegner created over 500 chairs during his career, 100 of which were mass-produced and have become design icons. Wegner belonged to the pioneering generation whose work constitutes the "Golden Age" of Danish design.
"Every vintage piece is unique, with its own story - that's our favourite aspect of sourcing this furniture."
- Ken and Renee Metrick, Elte