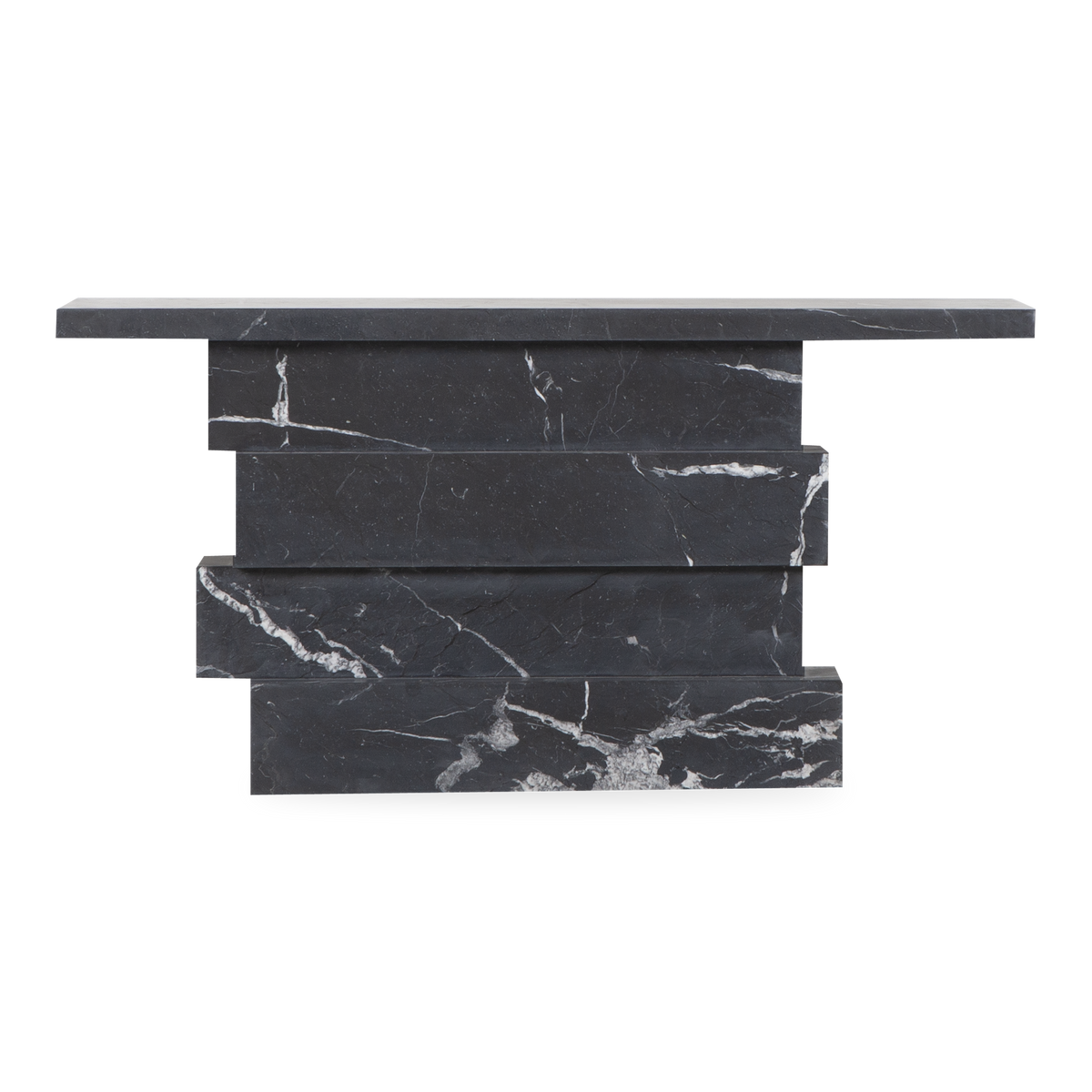 Balance Console Table
Spanish Nero Marquina Marble
Description
The Balance Console Table is a modern take on the art of stone balancing, the gravity-defying practice by artists like Adrian Grey and Michael Grab. Featuring 5 unique stone blocks resting on top of one another, Balance creates visual tension as a work of sculpture while maintaining a fully functional design as the table's top serves as a usable console surface.
Due to the characteristics of natural materials, each piece is unique and enhanced by the traits and markings inherent in the stone selected to craft your piece.
Product Code:
Material
Spanish Nero Marquina Marble
Our honed Spanish Nero Marquina comes from the North of Spain and is characterized by its fine and compact grain with a black background and white veins.
Other Options
Balance is available as a coffee table, console table and a pull up table. There is a console table available in Italian White Carrara Marble as well.
Customization
Our Balance Collection is stocked in Spanish Nero Marquina Marble, however Balance is also available to order in other styles, sizes and in 5 other stone options. See in-store for details.
Book a Consultation
Measurements
Width: 60"
Depth: 16"
Height: 30"
Measurements
Width: "
Depth: "
Height: "
Additional Measurements
Seat Width: "
Seat Depth: "
Seat Height: "
Arm Width: "
Arm Depth: "
Arm Height: "
Availability and Delivery
Designer Spotlight
Andrew Metrick
As a fourth-generation owner of Elte, Toronto-based designer Andrew Metrick grew up around design. From a young age, Andrew was fortunate to have visited countless factories, foundries, mills and antique dealers from around the world. This exposure led to Andrew's intimate knowledge of design, materials and time-honoured craftsmanship. Andrew's approach to design centers around his timeless approach to scale and proportion, his relentless attention to detail and his admiration for designs of the past.